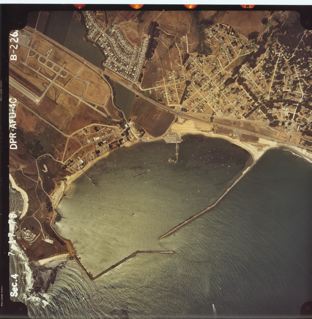 (1978 Pillar Point breakwater.Photo courtesy UCSC map room)
From Half Moon Bay Review, Oct. 1966
"Congressman J. Arthur Younger today announced that the apparent low bidder on the extension of the Pillar Point Breakwater was the Kiewit Co. of Richmond, California, on the firm's bid of $1, 798.150
"….Younger said that Col. Robert H. Allen, chief district engineer of the Army Engineer Corps, would review the bids and the award will be announced shortly. Work can start almost immediately with construction period set at two years.
"The extension will be a 1050 foot stone block (rubbleround) breakwater structure running southeasterly across the present entrance to the breakwater creating a channel 250 feet wide through which ships can enter easily. The surge during high seas will be greatly reduced, if not eliminated entirely. A total of 240,000 tons of rocks will be utilized for the job.
"Prior to design of the extension, two year tests were made by the Army Engineers at Vicksburg, Miss, where a model of the breakwater was constructed and tidal action emulated exactly as the ocean acts in the area.
"The original breakwater, for which Younger secured $3 million in federal funds, was completed four years ago and is in use by both commercial and recreational boats, but the protection will now be among the best on the Pacific Coast, according to plans.
"The breakwater is credited with spurring the growth of the coastside, said a spokesman at Younger's office."