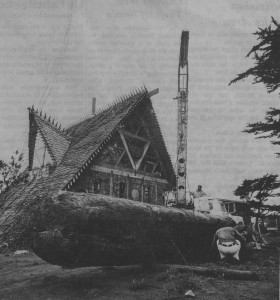 (Image: The Michael Powers homestead in Miramar Beach, with the huge redwood log in front. Photo by Michael Powers.)
In the late 1970s, Princeton shipbuilder Manuel Senteio, arrived at Miramar Beach, driving his crane to move a 20-foot-long, 3000 pound redwood log to photographer/sculptor Michael Power's healing center, then in development.
The log had washed up on the nearby beach, and when Senteio saw how huge it was, and what his crane would have to lift, he exclaimed: "It's big!"
Yes, it was VERY BIG AND VERY HEAVY–heavier still, from the sea water that had soaked into its pores.
Could Senteio's crane lift the thing? To fulfill Powers' plan, which was to carve the log, it had to stand upright. Could this be accomplished? Nobody knew for certain.
If all else failed, a crowd of Powers' artist friends were on hand to help "psychically" raise the mammoth totem pole; its destination the peaceful inner garden. Half Moon Bay City Manager Fred Mortensen, a neighbor of Michael Powers, was there to lend more practical expertise.
There were many oohs and ahhs and oh no's. This was the most dramatic event to occur in Miramar Beach for many moons.
But the crane lifter, Manuel Senteio was a professional: Can you hear the great burst of applause and laughter when the redwood log found its final resting place?
"Within this tremendous mass of redwood brought here to Miramar Beach by the sea," said Michael Powers, "I intend to carve the forms of a man, a woman, and a child, a trilogy. It will probably take a year to complete but hopefully it will become a source of beauty and inspiration for everyone who comes to see it."