(The following is from the May 1980 edition of the Beachcomber. The Cordova story written by Bill Hendricks originally appeared in the 1977 book: Transitions: Montara to Pescadero, an oral history, a project initiated and edited by Canada teacher Aida Hinojosa. )
Joe Cordova: to build a boat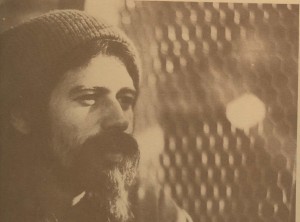 "It's kind of a childish dream that I've always had. I've always wanted to build a boat."
In this era of instant plastic and just about everything pre-fabricated, it's surely refreshing to learn of an individual who, despite his limited financial resources and his countless everyday sacrifices, has set out to fulfill his lifelong inspiration. An authentic craftsman, Joe Cordova is a picture of individual achievement in the fairly new field of ferro-cement boat construction.
Joe, now a coastal resident of Miramar, California, has recently returned from St. Petersburg, Florida, where he spent some two-and-a-half years working on boats and accruing more sailing experience. He has worked the Pacific Northwest on everything from a salmon trawler to a forty-seven foot moth sailer. His talent as a carpenter periodically supplies him with money to live on and the building materials for the boat he is building. In his pioneering work with mortar and steel, Joe has endured a lot for the pride of accomplishment and the freedom of the high seas.
In the following story we will not attempt to give a step-by-step account of ferro-cement boat building, but rather a description of his method of boat building with limited resources and experience in a fairly new form of boat construction.
After his initial purchase of a set of plans from a naval architect, Joe proceeded to modify the original design to add his own "twists" to them. "So we made changes and changes and finally came up with something I liked and then I started to build her. She came out just the way he designed her to be."
Joe chose the open-mold method of construction which is one of the fastest ways to complete a hull, and it is not expensive as other methods.
"After you've taken the wood and transposed it from planks into what they call a table of offsets which will give you the curves of the hull, you take your station frames and stand them up on their ends. You've got to plumb them up so they're all straight and run in the contour they're supposed to run in."
After attaching the station members to a supporting platform and attaching the stringers to the members, Joe used to appropriate scaffolding set up to provide access to the inside of the hull and to lend additional support to the hull itself. Joe specified that all the wood in the hull frame is temporary and is only required to attach the wire mesh and steel reinforcing netting to. After the hull is cemented and allowed to cure, all the wood frames are taken out.
"Well, once you've got the frames all plumbed up and they're all just right, you attach the frame for the bow on (forward part of the ship's hull). Then you put the frame for the transom on (flat rear of boat). You know, raising a piece of plywood that high is a feat in itself and can post problems aligning it with the rest of the hull. To support it I'm using four-by-fours with one-by-four kickers on the top and the one-by-two battens are really a lot of support to the rough frame too. Once you've made the rough frame, then you can go on to your wire."
The initial layers of wire mesh (poultry wire, 18-gauge one-inch mesh) are followed by several layers of three-sixteenths inch high-tensile steel submarine netting.
"You just kinda roll it on, stapling it to the hull frame as you go along. Probably in the last two weeks I've stapled no less than 12,000 staples and just countless lineal feet of chicken wire. After the first four layers. I'll then take what they call submarine netting and add on several layers of it followed by more layers of the chicken wire. Then I take what they call hog rings and a special clamp and clamp the whole thing together. There will be four layers of chicken wire, one layer of sub-netting, and then one more layer of chicken wire and another sub-net layer, followed by four more layers of chicken wire after that. A total of nine layers of poultry wire and two of the submarine netting, all evenly space of course.
"It's pretty much steel and you know that's what gives the cement its actual strength. It's like the foundation in a house. It allows the cement to work and yet gives it the strength."
The next step is plastering the hull. As Joe described it, it sounds pretty easy, but it's quite a job and obviously the most expensive part of the hull's construction.
"Well, I'll have what they call gunite and you have a bunch of people mix the mortar and you have a crew that just sprays it in. It's all pressurized in, so all the wire just totally gets penetrated into the interior and the back-plastering crew can smooth out the hull's inside. It sounds like a pretty easy procedure that you could do it all in one day, but it's quite a bit of work. It will take seven men and then with the materials and everything, I'll probably have to pay out about $1,200 in one day.
"I'll probably have a total of $9,000 into her when she hits the water, and about $27,000 into her material-wise at the completed stage, with the actual value of the boat to be four times that much."
After the hull has cured for the necessary period and the temporary wooden station members have been removed, it will be time to pour the keel (the backbone or bottom member of the ship) and to get the propeller shaft and deck fittings installed before plastering the deck. After all the necessary mechanics of the ship's interior have been taken care of, Joe has adequately planned for a very elaborate custom interior.
"Well, right here is going to be a sixteen-foot wrap-around couch, I'll have windows on the back so that you can look out on a view. As you step down into the main salon, one side will be a wet bar and one side, hopefully, will be a piano. I want a fireplace to be set closely to the couch. This side over here will be the galley; this side over here will be a head. It will also have a 'skinny-minnie' washer and dryer, in addition to a bathtub. There will be a total of three staterooms and another head forward, with the cargo hold starting after that. It's going to be a three-bedroom home. It's going to be more than a salon; the couch will turn into a double bed and in the galley area the set will turn into another double bed. I'll have the capacity to take twelve people for charters, fishing or salvage diving. You have got to make a boat versatile if you are going to make a living out of it. I'm going to roughly do the interior cabinet work and then sail to British Honduras where I have some friends and where I can have the interior in mahogany at a very reasonable price."
Although Joe has not yet decided on his diesel engine, his first choice will probably be a Volvo-Pinta. "It is easier to get parts for Volvo all over the world," he asserted.
Being a two-masted ketch, his mainsail will consist of approximately 878 square feet. The overall length will be 67 feet bow to keel, with 50 feet of deck to keep him and his crew in a sun-tanned state.
Whatever the long term result of Joe's efforts in shipbuilding may bring him, we can only wish him continued success and admire his individual achievement of doing something today what a short time ago he didn't feel he was capable of doing.
"I just said, The heck with it. If I don't do it now, I just may never do it. I thought I better get my feet wet and I did and it hasn't turned out too bad for me at all. Matter of fact, it has turned out extremely well."
(This story was written by Bill Hendricks)
(more coming)