I have been in Pennsylvania . Just laid my Dad to rest Saturday after a long 10- year battle with cancer, I was glad to be there with him in his final moments,
Dad and I shared more than just names, I, too, (luckily) have his drive. I was putting the starter together for "Brother Buzz" out of several used starters when I got the call to be at his hospital bedside back east.
As for a photo of our Princeton Mayor… I'm still in search of a photo of Katherine Middleton, I'm sure there must be a picture of that Birth Day Cake cutting with Sheriff Earl Whitmore on her 96th back in 1957? I'm guessing in the old County Court House, It's just tuff for me to get around since I can no longer drive.
While my Dad was here on his last trip west, 5 weeks ago, he took me down to the bookstore where he bought his last pipe, and I bought the last of your signed copies of "Princeton" –all along my Dad (Francis L. Young Sr.) sick from the chemo/ radiation and 3 broken vertebrae in his lower back, never complaining once; he was making this trek out here to be part of his oldest grandson's 21st birthday, and you know not a single beverage was uncorked and I honored my 4 1/2 years of sobriety.
We are still looking forward to Naming the ship [at the corner of Hwy 1 & Capistrano] Katherine F. Middleton, and if it comes down to it heck I'm darn good at bow painting and if things seem to be progressing to slowly. I guess I could step up and grab a brush.
As to the San Juan search , I have had Independent reports back from friends, saying they have searched the area using the Lat and Long I had provided them so I have to hope it is a built- in malfunction in my gear because I have been back to the area on my ship to see the same again since the initial discovery!
As soon as my health is up to speed I shall make another run out there, I think I mentioned to you that the world renowned underwater researcher Scott Cassel (The Squid Guy) has shown some interest in helping me search also.
Did I mention that my wife Kathy's Uncle Harry Maurer as a young man built ships at the Chester Ship Yards? That is where the San Juan was built.
Fran Brother Buzz Young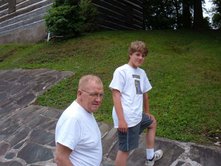 (Fran's son Matt with his granddad)