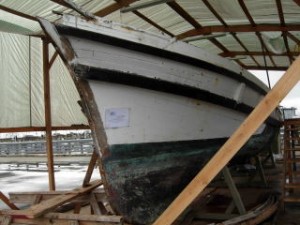 (The Irene, aka 'the Emerald of Half Moon Bay' is being returned to her former glory by Leland and Cecily Parsons at Pillar Point Harbor (619) 507-5071; they live in a boat moored at the harbor while restoring the boat. They are spearheading The Pillar Point Educational Fund, Inc. and efforts to re-launch the Irene.)
June, I have your book "   Half Moon Bay Memories; The Coastsides' Colorful Past " ; I bought it in a book store in HMB in 1985.  I lived in Moss Beach, Montara, Half Moon Bay and El Granada from age 13 to about  33; but, my current husband, George Piegaia and 4 of our 6 ( now grown ) children were all born there on the Coastside.  I just love the book and the beautiful old fotos.  I was at my niece-in-laws home recently, she is also a niece-in-law to Elaine Teixeira; Elaine and I E-mail . I saw your newest book about Princeton at Betty Teixeira Tomberlin's; but, didn't have a chance to read it, nor get to the store to buy it yet.
Did you know about the on-going saga of the salvage of a very old family fishing boat, " The Irene Bettencourt " was to be dismanteled about 1 1/2 years ago; when a group formed, salvaged it; and, are now in the process of restoring and reburbishing her.  The boat  is up in dry dock on the pier in Princeton; and was the family fishing boat for three generations of Bettencourts; first owned ( possibly built ) by my two sons, Eddy and Steve Bettencourts'  Great-grandfather, Joseph Silva Bettencourt.  I believe the last son to fish in it is George Bettencourt Sr., deceased husband of Caroline; and father to George Jr. living in HMB. Do you know of this family and their story ?  Sincerely, Lorraine Nielson-Tomberlin-Bettencourt Piegaia.