In My Mailvox From Elegant Cheesecakes:
We're looking for 15 taste testers to try our new Dark Chocolate Dream
Limited Time Offer!
Fellow Chocolate Lover,
The clock is ticking so I'll be brief.
Susan Morgan here, and I'm looking for 15 taste-testers to try our new Dark Chocolate Dream before we enter it in a new national competition.
I'm willing to ship you this new cake for the sale price $60.00 (a $20.00 savings to you) to get your opinion. That way we'll know if we have the finest cheesecake in America!
If you love chocolate, you are going to absolutely love our Dark Chocolate Dream.
What's not to love?
It's a veritable masterpiece of Belgium dark chocolates: bittersweet white chocolate with raspberry swirl finished off with a yummy chocolate macadamia nut crust.
We think this cake is the finest in our line up. Now we'd like your opinion and we're willing to bribe you for it.
Here's the Deal
Obviously, we can't simply ship everybody a FREE cake because the cost would put us out of business. But here's what we can do — give you our Dark Chocolate Dream for the same wholesale price that prominant national retailers get.
In addition, you'll get 10% off any purchase for the next year. If you know someone whose planning a wedding, that's a heck of a deal.
So what are you waiting for?
You will get…
* Our newest Dark Chocolate Dream that serves 10-12 at 25% off our retail rate
* 10% off any purchase for the next 12 months
But you better hurry!
We're closing this off as soon as we reach 15 taste testers. After that you'll have to wait until our next taste testing opportunity.
And I just can't promise when that will be.
So is it a deal?
Just click BUY NOW below and order the cake and we'll send you your Dark Chocolate Dream overnight by FED EX. Only the first 15 people who respond will get this deal!
Best wishes,
Susan Morgan, Elegant Cheesecakes
P.S. Our first taste tester Doug D. of San Mateo writes, "Oh my goodness. I thought your chocolate decadence was the bomb—but your dark chocolate dream with the raspberry is to die for."
Send for your Dark Chocolate Dream tester today.
Sale Price:$60.00 (Original Price: $80.00)
—————
*"She" is Elegant Cheesecakes owner Susan Morgan putting the final tuches on something delicious in the photo below.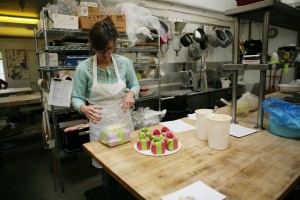 (Photo by Jerry Koontz. jerrysphotos.com