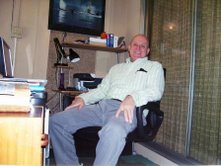 Fisherman-author Rob Tillitz (to visit his  Fishtales website, please click here) moved from Oakland to one of the most isolated parts of the Coastside when he was a little kid. Can you see the Google Earth map below? Rob has marked the location of the family home in Native Son's Park.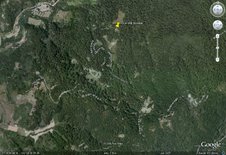 His first novel, Bootlegger's Cove, which Rob says will be out in a few months, takes place at once-isolated Bootlegger's Cove, south of Pescadero.  I hope to run some chapters from the novel.
Mr. Tillitz's family owned Pinky's restaurant at Gazos Creek, once a very remote place on the South Coast, so I am certain Mr. Tilltiz's book will be a page turner. He says: "This is the Coastside book everybody has been waiting for."Rob Tillitz's  follow-up book takes place at Princeton-by-the-Sea; it's called: Eyes Like Half Dollars.

Rob says:  The second novel starts up where Bootlegger's Cove leaves off, and Eyes is a murder mystery that takes place in and around Princeton."
I say: Hurry up and publish the books. Let us see what you've been up to!
———————
I've posted a couple of chapters from Rob Tillitz's new book Bootlegger's Cove at pescaderomemories.com
Scroll down a bit and you'll see Rob's work.