Mussel Rocks
5 Rocks Kept People Away
Story by John Vonderlin
Email John ([email protected])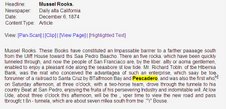 Hi June,
Was there a road on the beach with tunnels through promontories? Was it where the OSSR ended up? I've attached the ScreenShot so you can see how many guesses I had to make about what the actual words were. I looked at California Coastal Records Project pictures and can't relate the topography to the article. Can you help? Enjoy. John
———————-
Hi John,
I don't know but i love it. Tunnels through the rocks. So much more romantic than a highway. I have seen photos of people standing in front of what looks like a cave (on the Coastside) but could be a tunnel.
In your last graph, you punched in a ? because you couldn't read the word in the old article. Could it be the Cliff House? Does that work? Thanks, June
Mussel Rocks
The Daily Alta California
December 6, 1874
Mussel Rocks These rocks have constituted a barrier to further passage south from the Cliff House towards the San Pedro Beach. There are five rocks which have been quickly tunneled through, and now the people of San Francisco are, by the liberality of some gentlemen are enabled to enjoy a pleasant ride along the seashore at low tide. Mr Richard Tobin of the Hibernia Bank was the man who conceived the advantage of such an enterprise which is said to be the forerunner of a railroad by Halfmoon Bay and Pescadero, and was also the first who, on a Saturday afternoon, at three o'clock, with a two-horse team, drove through the tunnels to his country beach(?) at San Pedro, enjoying the fruits of perservering industry and indomitable will. At low tide.at about 3 o'clock this afternoon will be the best(?) time to view the new road and pass through the tunnels, which are about seven miles south of the "i" (? ) House.
—————————-
Hi June,
I guess the Tobin's Tunnel or Tobin's Folly was a sea level or beach level road. Here's a picture I found on Flickr that mentions it. (attached ScreenShot)
Finally! Here's the story:
Right opposite Mussel Rock is a low cliff promontory pierced by a tunnel about ten feet wide, ten feet high and 90 feet long. Known as Tobin's Folly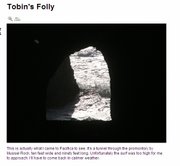 the tunnel was carved through the solid Franciscan rock for Hibernia Bank cofounder Richard Tobin in 1874. He wanted to be able to ride his buggy back and forth between his family's city home and their house in Rockaway Beach, Pacifica, south of Daly City.
The tunnel was a disaster from the beginning. First, Pacific storms rearranged the surrounding sand, both redepositing sand in the tunnel cavity and eroding sand from the approach to the tunnel. Nature delivered the coup de grace in 1906, when the earthquake reportedly knocked off most of the rock tunnel and threw it into the ocean, leaving the tunnel in its present disabled state.
The tall cliffs abutting the tunnel to the north contain spectacular examples of fault gouge. Zones of crumbly rock powder formed as the sides of the fault ground past each other, pulverizing the Franciscan greenstone basalt as millstones grind grain into flour