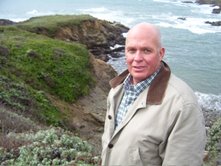 Story by Rob Tillitz
Email Rob ([email protected])
Hi June,
How are you? Haven't chatted with you for awhile. You know I made a trip over to the coast and met with John Vonderlin. Got lots of pix and saw lots of people. It was wonderful to hang out at the harbor and Catch Joanne's. Spent quite a bit of time with Mike McHenry too. Went two days in a row to Bootlegger's Cove.
I was pleasantly surprised by the entire coast, albeit a bit overwhelmed by downtown HMB. The hotels and all that were fine. For whatever reason, I don't mind progress. Don't remember if I said it, but the biggest change I noticed was how tall the trees have grown.
The book [Bootlegger's Cove] is getting very close. I just uploaded my last batch of corrections to the publisher this weekend. The next step is they will send me an actual book to review and approve, and then it will be available. It's getting very close and I don't mind telling you I'm getting excited!
Progress continues with book promotions. . I have T-shirts being made, and have posted videos on my YouTube site of my trip to the cove. You might find the one called "The Salmon Song" a bit risque for your taste! But the other ones, the ones that are numbered, are of my trip to the cove.  And you can see on YouTube my friend Christina Olsen, originally of Pescadero, talking about my book on a Brookings [Oregon]  TV station. She has me set up to go on there when I am up there doing book signings.
Please drop me an E when you have time and let me know how you're doing.
Your pal…Rob Tillitz