Thalassophilia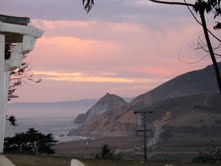 "The sea is calm tonight", Matthew Arnold's poem "Dover Beach" begins, with the ocean setting the background for an impassioned plea: "Let us be true to one another."
The ocean is the background for many Coastsiders besides the fishermen, the surfers and the beachcombers. We are so used to its sound, its constant presence, that sometimes we hardly notice it unless it rushes under the front door at Nick's Restaurant in Pacifica, throws foam on the highway, or produces monster waves like the ones the Maverick's people are expecting next week.
I have been a Thalassophile, an ocean lover, since I first saw the sea when I was fifteen. Born in Tennessee, I knew about lakes and rivers, but I was stunned speechless when I first saw the vastness of the Atlantic Ocean from the Carolina coast.
Since then, I have crossed the Atlantic by ship and plane any number of times, have been swimming in the Mediterranean, the Aegean and the Ionian seas, but I have settled at last where the first and last sights of daylight are the waves hitting the foot of Montara Mountain. The sound of the surf lulls me to sleep every night.
"Another summer at sea?" my husband remarked mildly last June as I began my fourth trip through Patrick O'Brian's 21 seafaring Aubrey-Maturin books.
Now I am reading Herman Melville's Moby Dick for the first time and wondering why this big novel always seemed so daunting, gathering dust on the bookshelf all these years.
I am editing Susan Bradfield's book The Reluctant Sailor, using Google Docs, since she is living on the yacht Apple II in Baja after some truly harrowing adventures in the Pacific. (Her first book, Any Time, Any Place: Meditation for Your Earthwalk, is now available on Kindle.)
My neighbor Richard is a true Thalassophile. He can see the Pacific from almost every room in his house. He fishes, walks his dogs on the beach, calls our ocean "Mother Pacific." When he and Dolores were married at home, I took my portable keyboard and played Antonio Carlos Jobim's "Wave". We ate crab and drank champagne, just them and the minister and me.
Everything rusts, silver will discolor overnight; we have fog and mildew and bone-chilling summers, but I don't think I'd ever want to live out of sight and sound of our Pacific.