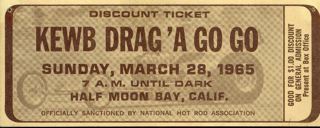 (Thank you, Mark Andemahr of the HMB Bakery for this piece of Drag Strip memorabilia.)
From the "Half Moon Bay Review," 1965
'Drag racing will be treated to an outstanding meet when Half Moon Bay Drag Strip opens its 10th season on Sunday.
"This will be the first outing for most of the new 1965 competition models in the stock and super-stock field. Many of the entrants will be cars that have competed in the Winter Nationals on February 7 at Pomona. It is the custom for these cars, from all over the country, to remain on the West Coast for a few weeks and make as many appearances as their schedule will allow.
"Dragsters, too, will be competing in the February 14 event at Half Moon Bay. Many of the cars that will be on hand will have undergone major improvements during the winter lay-off, and Half Moon Bay Drag Director Don Smith expects track records to fall in all classes in the very first meet of the year.
"As in the past, all events held at Half Moon Bay in 1965, will be under the sanction of the National Hot Rod Association (NHRA).
"Gates open at 8:30 a.m. with eliminations beginning at 12:30 p.m."