I had all the issues of the "Voice of the Coast," an alternative paper published in the 1970s but I passed them on, and hope they're in good hands.
Today I think we might consider "Voice of the Coast" a "green newspaper." There were articles about conservation and recycling, with the greatest criticism reserved for the expansion of Pillar Point Harbor.
Folded inside a file, I found a stray news-sheet from the "Voice of the Coast" containing a few ads, and a piece about an important Harbor Commission meeting (see below).

Hard to read? The print's a bit small so I will tell you what it says.
Do you remember the "Abalone Shop," owned by legendary fisherman John Koep. His brother, Michael Koep is the author of the "Fisherman's Son," a novel based on life at Princeton-by-the-Sea.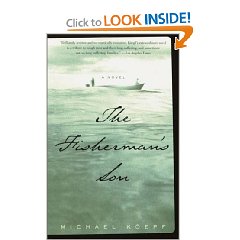 I used to buy fresh fish from Michael's wife who worked at the Abalone Shop.
The middle ad reads: "Get it all together at the Half Moon Bay Lumber Company."
The ad to the right says: H-M-B ENCO Emergency Road Service, Corner Hwy 1 and San Mateo Road.
On the "Bulletin Board," I found one request for "Birdwatchers." There was a phone number for a  babysitter, tutoring services,  odd job seeker, free kittens and a free baby crib. If you lost a watch in Half Moon Bay, somebody found it.
Advertising in the "Voice of the Coast," cost $1 for 27 typed letters or numbers or symbols.
———-
From "Voice of the Coast," 1970s
"Outside, All was Darkness"
By Kent Dedrick
(coming soon)