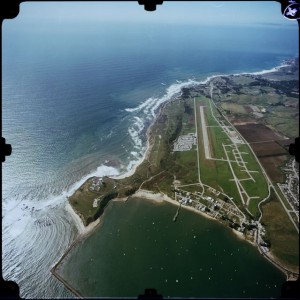 Story by Tom Andersen
Email Tom ([email protected])
"Mavericks Underground"
t is hard to visualize the profile at Pillar Point without the silhouettes of the tracking facility, but this was the view when I moved to the Coastside in 1958. There are underground bunkers with seaside openings in the cliffs which my Father and I explored. The missile tracking facility was built in the early sixties for observing test firings from Vandenburg Air Force Base near Lompoc. Later, it tracked the space shuttles. It was first announced and long referred to as a "temporary facility". Of course, Cosmo in "Moonstruck" says "everything's temporary".
It is a misappropriation of the most visually dramatic geological feature to blight its look with this installation. Now that the surf break "Mavericks" has come out as the most famous of surf spots, the veritable Mount Everest of surfing, Pillar Point has become a natural mecca for watching surfers ride some of the largest waves ever ridden. While the former pinnacle of the surfing world breaks only occasionally, Mavericks is huge and ridden over fifty days a year. Meanwhile, as the  television and radio announces to everyone that this is going on, parking areas are packed, and huge crowds make the sketchy climb up the south face of Pillar Point, only to be met by a barbed wire security fence just as they reach level ground. The climb is dangerous enough in dry weather, but since Mavericks is a winter wave, often it is slick with rainfall, making it extremely difficult to negotiate, and ever more treacherous. Cars are tagged for illegal parking, walks of a mile or more are common, and every business in Princeton has no parking signs posted.
Mildly put, this is crazy. There is a better way. Bodega Bay has a similar sandstone bluff. It has a road to the level plateau, and parking. It has a well maintained grassy area with numerous picnic tables. It is enjoyed by hikers, bicyclists, picnicers, kite flyers, and those that just want to come up to higher ground for the view or sunset. Visually, there are no structures to interrupt the appearance of the area's most prominent land feature.
Above Frenchman's Creek is a radar facility for San Francisco International aircraft traffic. It is reached by a private drive past a locked gate. It is secluded and secure, and few have seen it as it is a remote and inconspicuous location.
The Pillar Point Tracking Station should be moved to this or another "sight." Pillar Point should become a national park. A fence such as that at Lighthouse Point and Steamer Lane in Santa Cruz should be built at the cliff's edge. A large parking lot should be built at Half Moon Bay Airport with shuttle bus service available for $1. The only structures on the bluff top should be a rain pavilion near the ocean side with picnic tables and shelter from northwest and southwest wind. Bicycles should be allowed, with parking facilities so they could be locked up. The underground bunker should be expanded for a restaurant and bar, along with extensive bathroom and internet facilities. The restaurant and bar should have windowed views of the surfing waves, along with an outside deck and stairway down to the beach. Surfers should be provided with changing rooms, lockers and showers for $1. Photography areas should be provided, with the only requirement for access be possession of a camera.
It's time to recognize what is happening and provide accommodations for what exists.