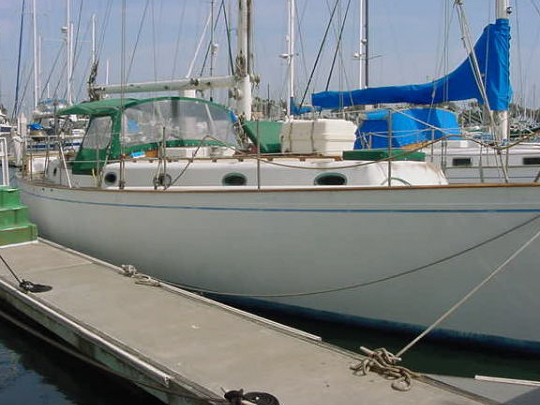 [Image above: Meet the "Condor,"]
Carole says: The Condor is a 46 foot 1978 Formosa Petterson fiberglass sailboat with 2 births, 2 heads and teak decks. It's in Ventura Harbor getting examined to make sure it is sea worthy. We will probably keep her there at least through the HMB summer fog so we can get some good sunny sailing in.

Jim says: suspect I'm going to spend around —- but might be able to get away for less…I haven't been able to diagnose the motor or trans problem…probably —- to get it hauled and the bottom cleaned and painted and to get a survey..I'm not anticipating problems with the hull, but we'll see….
It needs a lot of stuff cleaned up and maintained, but it should be pretty cool…and I don't think I can get hurt on it regardless.