Story from John Vonderlin
Email John ([email protected])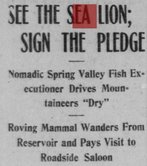 Hi June,
    Newspapers from 1880 to 1910, the piece below could have been the second biggest story about happenings on the stage road from San Mateo to Half Moon bay; just behind the stage hold-up story with its large drawings. I'm going to see if I can find any other mention of Spring Valley Water Works' carp removal program. After years of shooting sea lions or turning them in very smelly lamp oil, only rounding up "laze-about" sea lions, and putting them to work, may have been considered "progressive."  Enjoy. John
SEE THE SEA LION;
SIGN THE PLEDGE
Nomadic Spring Valley Fish Ex-
ecutioner Drives Mountaineers "Dry"
Roving Mammal Wanders From
Reservoir and Pays Visit to
Roadside Saloon
SAN MATEO. Nov. 27.— Every moun-
taineer in the vicinity of Rand*s saloon,
a roadside resort on the stage road
leading from San Mateo to Half Moon
Bay, has taken a pledge to abstain
from all alcoholic liquor for some time
to come, this unusual and wholesale
action being caused by the appearance
of a sea lion in the doorway of the.
resort a week ago when the merri-
ment was at its height.
Sundry and various believers in the
cup that cheers, had seen snakes at
different times, but the appearance of
the sea lion put forward their usual
New Year's resolution by a month.
Some time ago the Spring Valley
water company placed a number of sea
lions in their lakes back of San Mateo
for the purpose of reducing the num-
ber of carp that have infested them
of late years.
The king of all these lions finally
became tired of the kind of water in
the corporation's lakes and started
overland for the Pacific. Following the
stage road, the sea lion became thor-
oughly disgusted with the dustiness of
the route and stopped at Rand's in
accordance with the custom of all trav-
elers for the last 40 years for refresh-
ment. After an unusual commotion
caused by its appearance, the sea lion
was finally captured and returned willy
nilly to the company's lakes to under
go the water treatment once more.