[Image: "The Circus: 1870-1950," book by Noel Daniel, published by Taschen}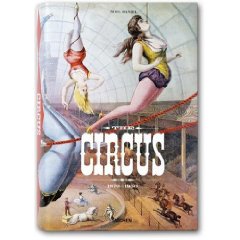 Dear June,
I have to make sure that this is about the "Humor of the Situation," and not about "Me Back in May of 1980."
Here's the true story of how and why my girlfriend, Pattie, joined the circus. You wanted to know the details and here they are: Pattie got a three week ,"One Time" gig ,as a seamstress with a "Carnival group" going to Hawaii for three weeks.
Of course, there was another guy involved, and I caught her with him even before they flew off to the Islands. I'd honed my detective skills watching "Columbo," the old tv detective show.. Pattie spent the next two years with the "Carnival".
Anyway,in leaving me for the circus job, she gave me–I won't call it a "pick-up line"—but the best conversation- starter line ever!. Anything more depended on my "Boyish Charm,Wit and Humility," all of which are now wearing a bit thin 30 years later.
Pattie up and leaving me for the Carnival also drove me back to listening to country music, the only place to be if you really want to get the most out of being down!
A close second to my sad tale comes from a realtor friend called Linda. Her boyfriend of 20 years ran off with a waitress from a "waffle house," That qualifies for the lyrics of a country song, doesn't it? .
————
Gray Gardner
OE Sales and Engineering Manager
Taylor Cable Products, Inc.
301 Highgrove Road
Grandview, MO 64030
816-765-5011 ext 127
816-761-4023 fax