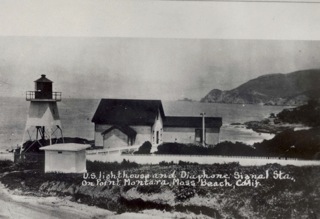 Story from John Vonderlin
Email John ([email protected])
Hi June,
This article from the June 16th, 1875 issue of "The Daily Alta," tells of the construction of the Montara Fog Signal. What I found most interesting was the article's mentioning of the troubles at the Pigeon Point Lighthouse from their hard water. Could that be a partial answer to the recurring claims by sailors who survived wrecked ships, that no fog signal was heard before they went aground. Imagine the exhausted lighthouse keeper, after experiencing several sound blasts a minute, for days on end, during the periods when the fog doesn't lift. Finally, in a delirium of sleeplessness, caused by thousands of rude awakenings, a valve clogs with scale from the boiler and the whistle is finally silent. To expect some inner psychic alarm to ignore the body's protests and propel the poor, besotted lightkeeper back to full consciousness is unrealistic. ZZZZZZZZZZ. I'm almost there just thinking about it.
Enjoy. John
FOG SIGNAL AT POINT MONTARA
The Light House Board gives notice  that on and after March 1st,  a steam fog-signal will be sounded at Point Montara, California, during thick. and foggy weather, giving a blast of  5 seconds, with an interval ot 35 seconds, then a blast of 18 seconds, to be followed by an interval of 20 seoonds. The fog-signal house  and keeper's dwelling are low structures painted white, situated 60 yards apart. The approximate position of the light-house, as taken from the Coast Survey Charts, is as follows : Latitude, 37° 33 north; Longitude, 122 31′ west.  Magnetic bearings and distances of prominent  objects are as follows : Point San Pedro, N. by W. 1/2 W., 3 1/2 nautical miles, Pillar Point. SE. by E., 2 3/4 nautical miles.
The San Mateo Times says :  The finishing touches are being put upon the  fog whistle to be located at Point Montara. The buildings are already erected. The keeper's house is an elegant and' commodious one, muoh more so than any we have ever seen belonging to the govemment on this Coast.  There is contained in the reservation about thirty acres of  land, on which there is a fine stream of water, which is an indispensable requisite for supplying the fog whistle and the wants ot the keeper and his assistants. The question of the quality of water which feeds the boilers of a whistle is an important one, as is readily instanced by the amount of trouble which the whistle at Pigeon Point gives to the keeper, on account of the alkali nature of the water from which his boilers are fed. The Point Montara whistle will be ready for service in a few days